Anchorage Assemblywoman – "Wear your mask!"
TALL TALES from Juneau
and the D.C. Debacle
OOPS
After last week's edition of Tall Tales hit your screen, Dan Sullivan let all Alaskans know how it feels when your United States Senator can't even tell the difference between two civil rights icons that he served with in Congress. He expressed his obligatory regrets at the passing of Rep. John Lewis by posting a picture of himself in front of the Smithsonian's new Musem of African-American History and Culture with… the late Rep. Elijah Cummings.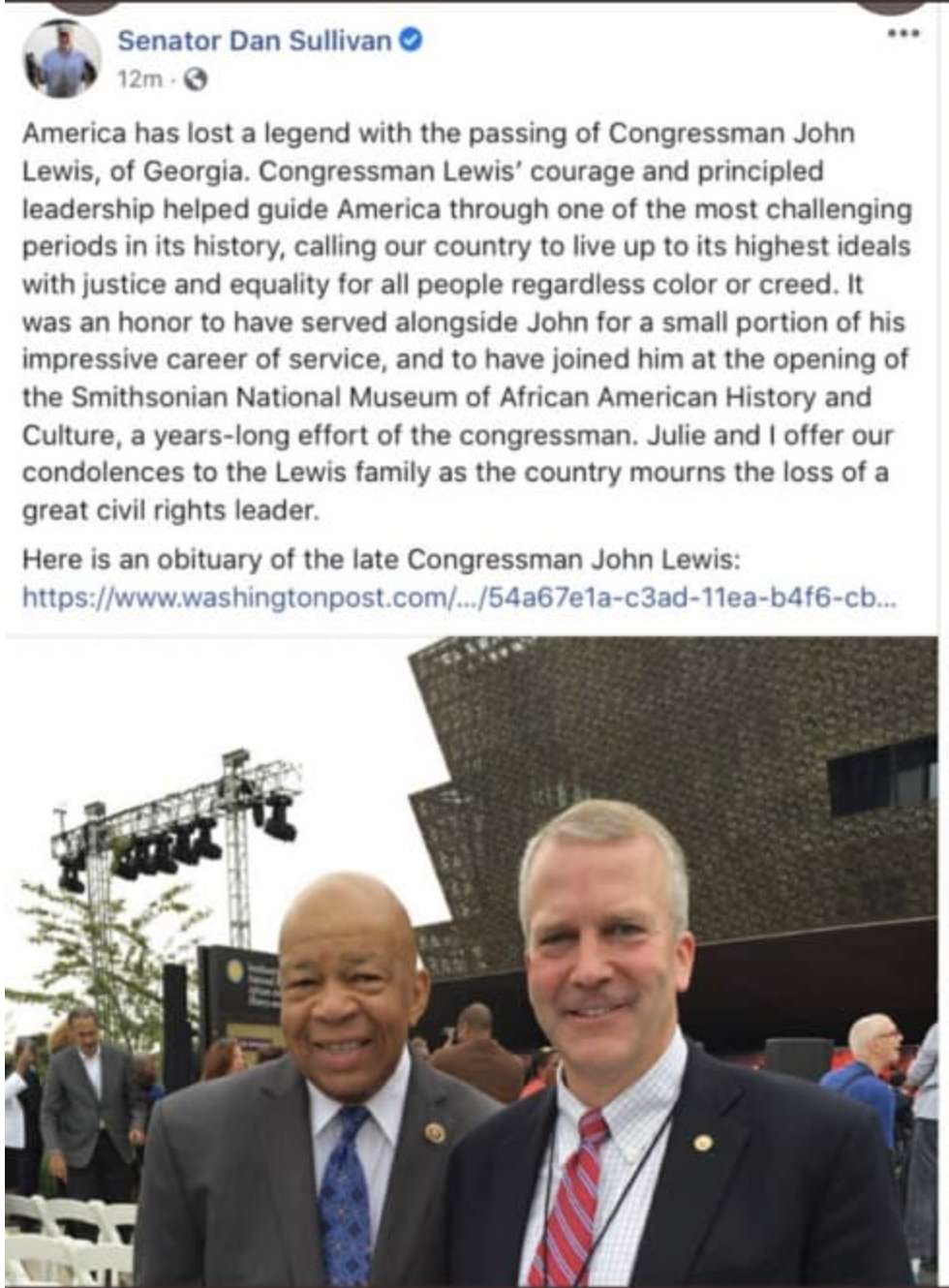 He wasn't the only one to make this cringe-worthy gaffe – His fellow Republican Marco Rubio did the same thing, but unlike Sullivan he at least acknowledged his mistake, took responsibility, and apologized for it. Sullivan removed the tweet and reposted it with a different photo and without the mention of joining Rep. Lewis at the museum (because he didn't), and has so far just ignored the whole thing hoping it will go away. But, the internet never forgets.
SPEAKING OF SENDING DAN SULLIVAN BACK TO OHIO
Did you know that Dr. Al Gross, who is running against Sullivan, has released his first TV ad, and after posting it on Twitter, he now has more followers than Dan Sullivan?! AND, last night on The 11th Hour with Brian Williams, legendary Democratic strategist James Carville was talking about flipping the Senate and said, "we're looking really strong in Alaska." This is really exciting stuff, so go jump on board and follow @DrAlGrossAK if you don't already! I bet that number you see below is totally obsolete by now!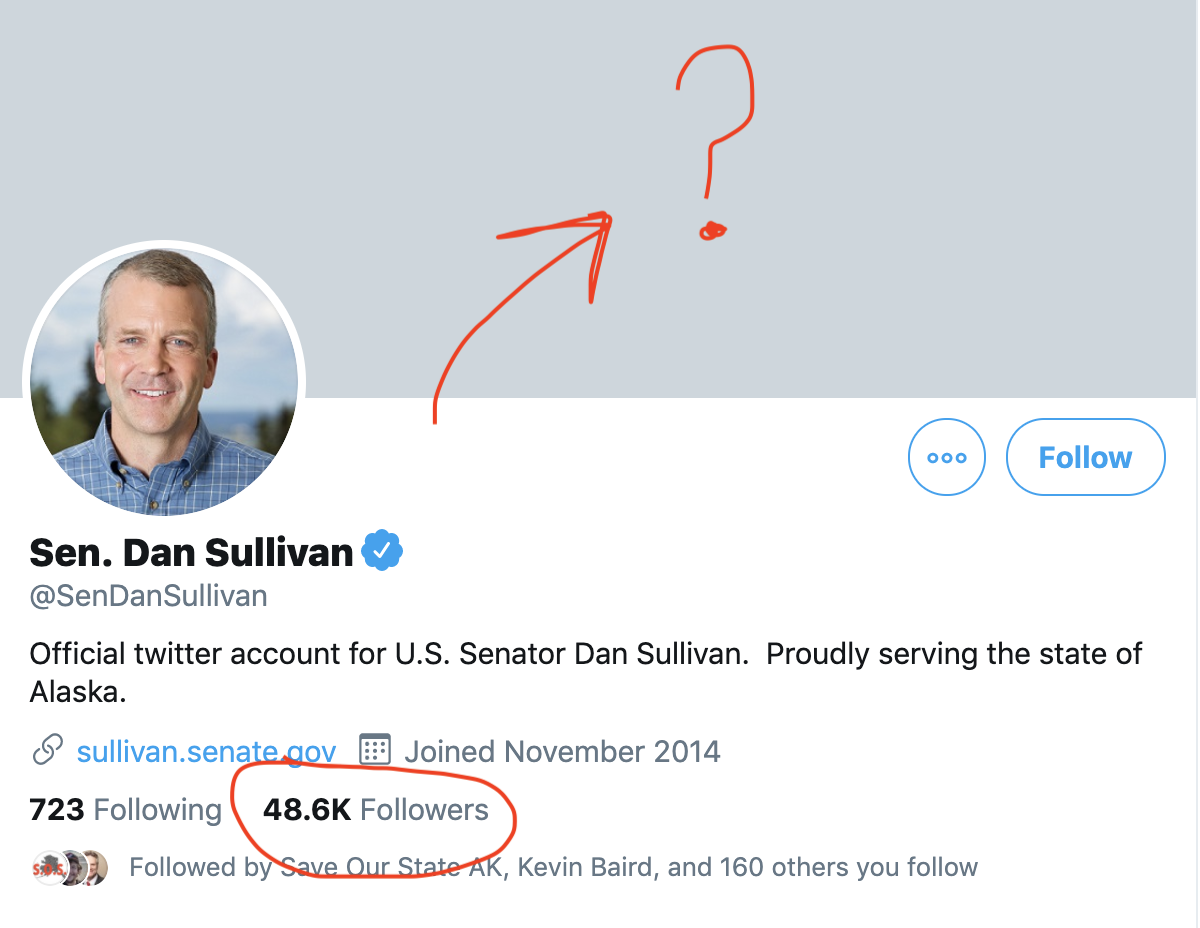 IN THIS WEEK'S EPISODE OF "KNOW YOUR SANTAS"…
Remember last week at the Mat-Su Republican candidate forum when angry right-wing Santa (aka Loy Thurman) said he fought the Division of Elections and now will have his name on the ballot as "Santa?" Well, real Santa Claus (his legal name) from North Pole, and a member of the North Pole City Council, had something to say about that. He must read Tall Tales! [Hi Santa!]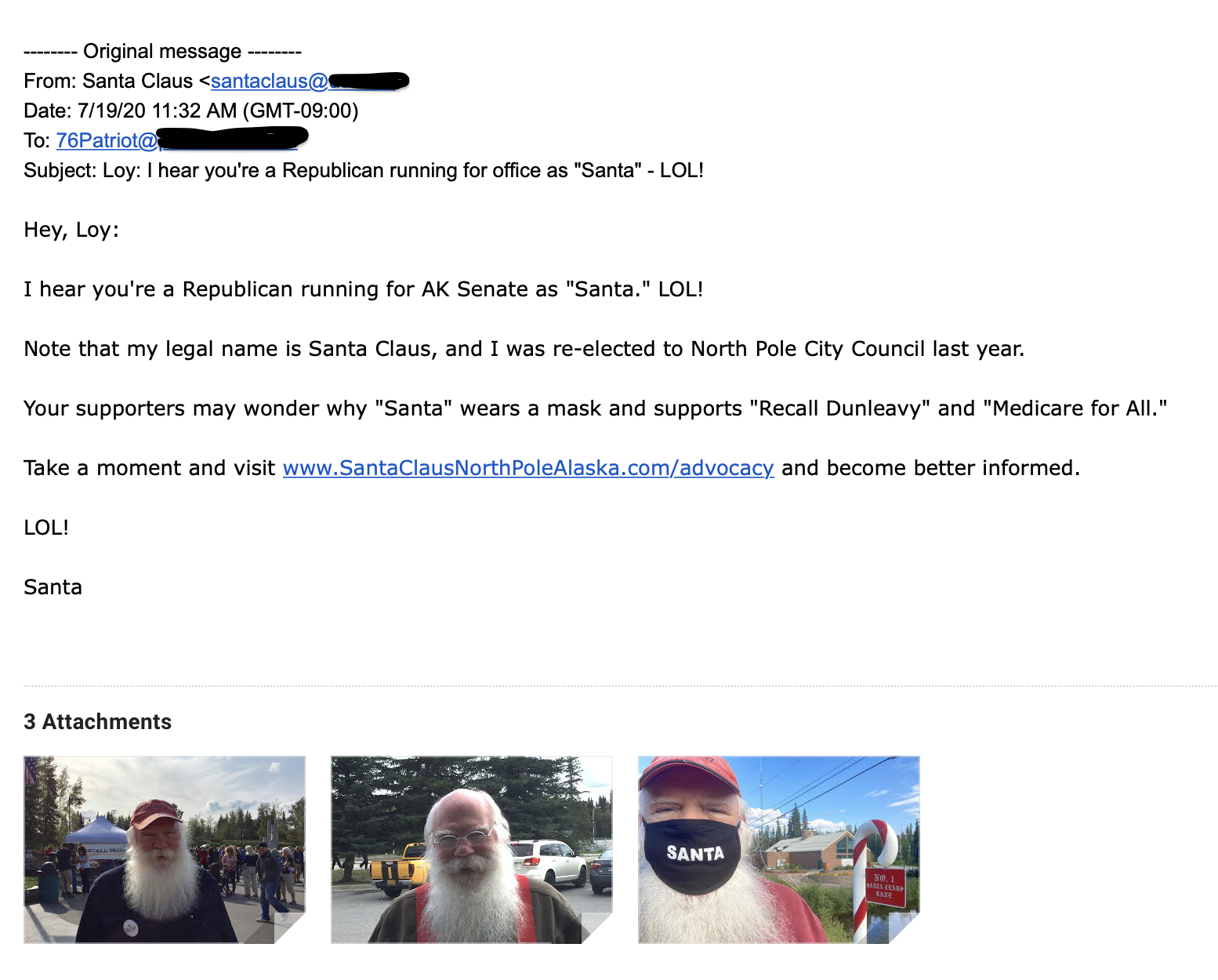 Uh-ohhhhh… Looks like SOMEbody might be getting coal in his stocking this year! Impersonate Santa Claus at your peril!
HE HAS ONE JOB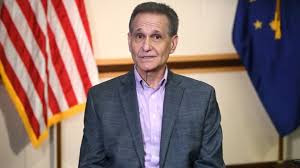 Ok, he has two jobs – the second one is making sure the state seal is used properly. But the first and most important job of the Alaska Lieutenant Governor is to oversee the Division of Elections. You would think that the person tasked with this would know the names of the two largest political parties in the state.
So, Kevin Meyer, if you're listening, say it with me:
DEM. O. CRAT… and stay with me here… IC.
The Democratic Party. It's not the Democrat Party. Democrat is a noun – a person, and Democratic is an adjective. It's the Democratic Party. Trust us, we know.
The use of "Democrat Party" arose almost 100 years ago as a juvenile insult when some guy thought it was super funny because it ended in "rat." RAT, get it??? So, since you're the Lt. Governor I figured you should know. Thanks, Kevi. Or should we call you:
Lieute Governo Meye?
REPUBLICANS BEHAVING BADLY
Eagle River's elected Republican representatives have once again distinguished themselves. While 89% of America is masking up, trying really hard to keep from spreading a deadly virus to their friends and loved ones by keeping their droplets to themselves, the Eagle River contingent is outraged by the infringement on their personal liberties. Any moment now, they're going to DEMAND TO SPEAK TO THE MANAGER!
Anti-mask disease vector and Anchorage Assembly member, Jamie Allard, actually posted this picture of herself on Facebook.
"Wear your mask,"she says, ironically. I'm sure Jamie Allard thinks this is hilarious. And I'm sure Alaskans who have suffered from COVID-19 or know someone who has contracted the disease or died because of people like Ms. Allard don't find it hilarious at all.
She joins the likes of Rep. Ben Carpenter who says covid screening is like being marked as a Jew by the Nazis, and Lora Reinbold who actually got booted out of an Anchorage restaurant for refusing to wear a mask to her table – and then slammed the restaurant, saying she would avoid it like… wait for it… THE PLAGUE. Since she obviously doesn't avoid plagues, I guess that means she'll be back. Stand warned, South Restaurant!
She even lied to an airline, and then bragged about it publicly on Facebook. What a stellar example of moral leadership. Don't be like Senator Reinbold, kids.
Which brings me to my next point. We love you and need you and don't want you standing in line with people who lie so they don't have to follow basic health guidelines, or who cover their pie-hole with a patriotic afghan swatch to "own the libs." We need you healthy and well to vote as many people like them out of office as possible.
So, don't stand in line with them, and if you haven't done it yet, go to absenteeballotapplication.alaska.gov and request your Alaska primary and general election ballots be sent to you. Then fill them out, and drop them in the mail. Easy peasy.
The Republican Party, for all their squawking about how nobody should use vote by mail, is mailing out absentee ballot requests to every registered Republican in Alaska because they know it works. Well… they were trying to do that, but ended up sending out 22,000 incorrect ballots to wrong names and wrong addresses. Then they did the right thing, issued a formal apology, and told people what to do. JUST KIDDING! Of course they didn't do any of that. They went to the Dan Sullivan school of "pretend it didn't happen."
So if you got one of those weird, wrong Republican ballots… burn it with fire, and get your own from the Division of Elections. Because we love you and we need you, and we don't want anything to stand between you and your vote.

Comments
comments